Every year the Pembroke area is honored by the presence of Jason Blaine and the Celebrity Golf Classic event Jason so humbly spearheads. This year was no exception with a fun-filled day of entertainment, dancing, games and celebrity mingling.
The Concert Included:
Western Swing Authority
River Town Saints
Dan Davidson
Arron Pritchette
Jason Blaine
They entertained for about 2 hours with live auctions and lots of dancing. Some of the items included a signed Doug Gilmour jersey, breakfast with the stars and Golf with the stars. There was also a VIP section for meet and greet with the stars, and Doug Gilmour was there to mingle with fans.
The golf and tailgate party on the Wednesday was a huge success and included a dunk tank, more raffles and auctions.

Many local business owners donated their time and services to make this night a success: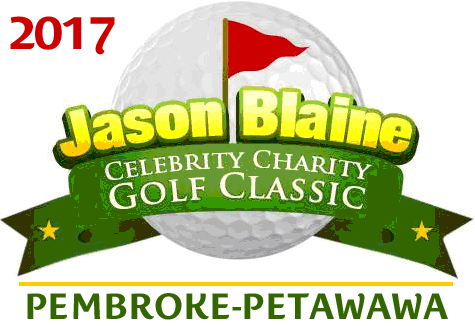 Main Sponsors
Eastway Group, PetValu Pembroke and Petawawa
The New Star 96.7/ Bell Media
Algonquin College Waterfront Campus
Best Western Inn Pembroke Inn
Rondeau Electric
James Noble / RBC Dominion Securities
Murphy Ford
Asante Wealth Management -Mark Wheaton
Mulvihill Drug-mart
Legacy Homes
Huckabone O'Brien Instance Bradley and Lyle
Hole Sponsors
Frank Carroll Insurance
B. &. G Renovations
Meridian
Craig Edmonds / Royal LePage
Cut Right Family Styling and Indulgence Spa
doTERRA Essential oils
Dr. Bruce Harle
EGM Insurance Brokers
Layman. Fire and Safety
Lasso Live
French Fry Trailers Inc
RY J's Climbing Adventures / Physio Fit
Scott Edmonds Royal Lepage
Glenergy
Law and Orders
First General Services URA
Cassidy's
Our Promenade tables
Algonquin College Students Ass.
Pembroke Golf Course / Danny Shields
Hair by Design
Valley Fire Alarm Services Crazy Bird Ladies
Kerri Hill Development
Crazy Beautiful Decor
And to ALL who bought tickets and support this incredible event!
Benefactors for this Event
Pembroke Petawawa Community Foundation
Algonquin College – Endowment Fund
Boys & Girls Club of Pembroke
Caring for our Community
Total money raised was $90,000 to help local charities
The Best Western Pembroke Inn & conference Centre would like to thank Jason Blaine & guests along with sponsors and attendees for their continued support in the community. Without you, the dreams we all have for our community would not be so easily achieved.
Save
Save
Save
Save
Save
Save
Save
Save
Save
Save