Best Western Pembroke Inn & Conference Centre
Project: Remodeling the swimming area
Start Date: April 30, 13
Confirmed Opening Date: May 20, 13
Announcement: Salt Water Pool, New Hot Tub & Flooring
Life has so many wonderful surprises to offer. If you've stayed at Best Western Pembroke Inn & Conference you may have noticed the friendly staff and small town setting. About a year ago The Ottawa Valley's largest hotel, fitness centre and conference facility was purchased by new owners. The new owners immediately observed the dedication of staff was at the heart of the small town friendly atmosphere.
The new owners and staff collaborated to formulate a pool remodeling strategy that would minimize any inconvenience to hotel guests. With the project in full swing we began remodeling the indoor pool. Below you will find a summary of what to expect in the future for the indoor swimming area.
Salt Water Swimming Pool and Outdoor Patio


As part of our remodeling project we looked at our indoor swimming pool. On the top of our list was the need to provide the ultimate in comfort and cleanliness for hotel guests. Initially we investigated the pros and cons of a chlorine vs. salt water based pool. We are proud to tell you salt water came out on top by a long shot. Here are the key reasons why:
The salt used in a swimming pool is minimal, making your swim less harmful to sensitive skin
Eyes and skin will not become irritated like you may have discovered with chlorine based pools
Salt water pools produce luxurious water that is soft and clear
Environmentally friendly
Salt water is less harmful to your swim suit
Salt water stimulates blood circulation
Salt water relieves stress – it reduces inflammation of the joints and muscles leaving your body feeling relaxed and stress-free
Salt water contains bromide, a mineral that helps relieve muscle pain and soreness
The above advantages were pivotal in deciding what was best for our valued guests.
New Hot Tub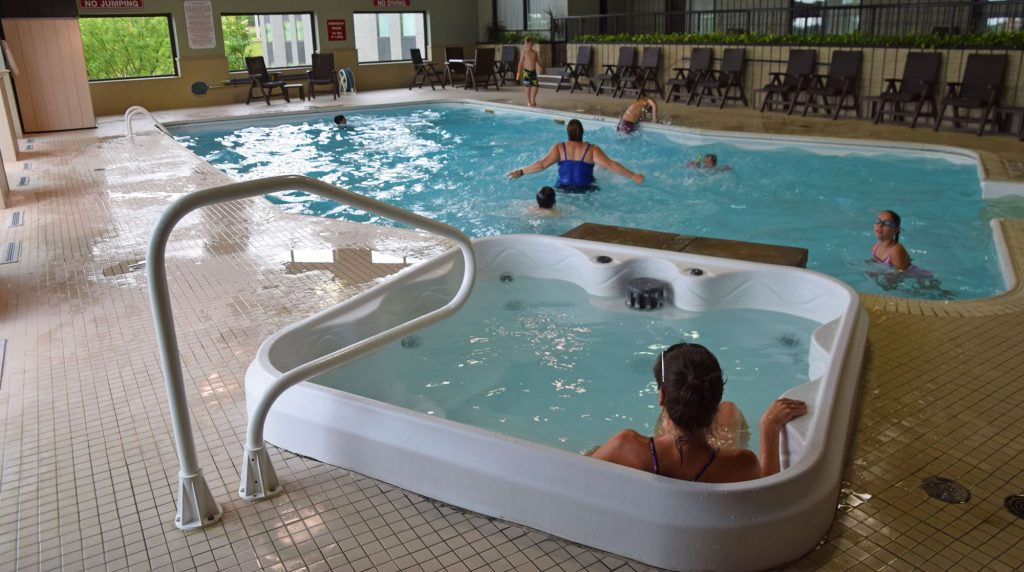 The new hot tub will accommodate 6 to 8 people and will have a spill over into a pool. The spill over creates a wonderful waterfall setting which helps you relax and enjoy your swim session.
Relaxing addition to the indoor pool atmosphere
The jets and hot water create calming effect to the body
More energy efficient with spill over pool
Rubber Decking Flooring
The new flooring includes a rubber deck finish which provides many key benefits to hotel guests:
An attractive finish for greater interior aesthetics
Comfortable walking and soft on the feet


Minimal injuries if a fall occurs
Skid resistant decreasing the likelihood of injury
These were the main features that influenced our decision to insure we were greatly improving safety, appearance and comfort.
Best Western Pembroke Inn and Conference Centre management team wants you to know we make these improvements for you, our valued guest. There will be no short-cuts taken! It is our intention to keep the small town setting and provide a memorable hotel stay for you and your family.
Save