Are you planning a trip to Pembroke with a group of friends or family? It's comforting to know when you and your friends arrive in your motor coach there's a Best Western in Pembroke waiting for your arrival. Tending to the needs of touring buses is a specialty our staff has earned over the years. With 88 rooms, indoor salt water pool & hot tub, award winning Westwinds Family Restaurant, 9,000 square foot dedicated conference level and a fitness centre—we are Pembroke's premier choice for motor coach groups. Here are the main reasons travel tours have come to depend on us for their accommodation needs…
Location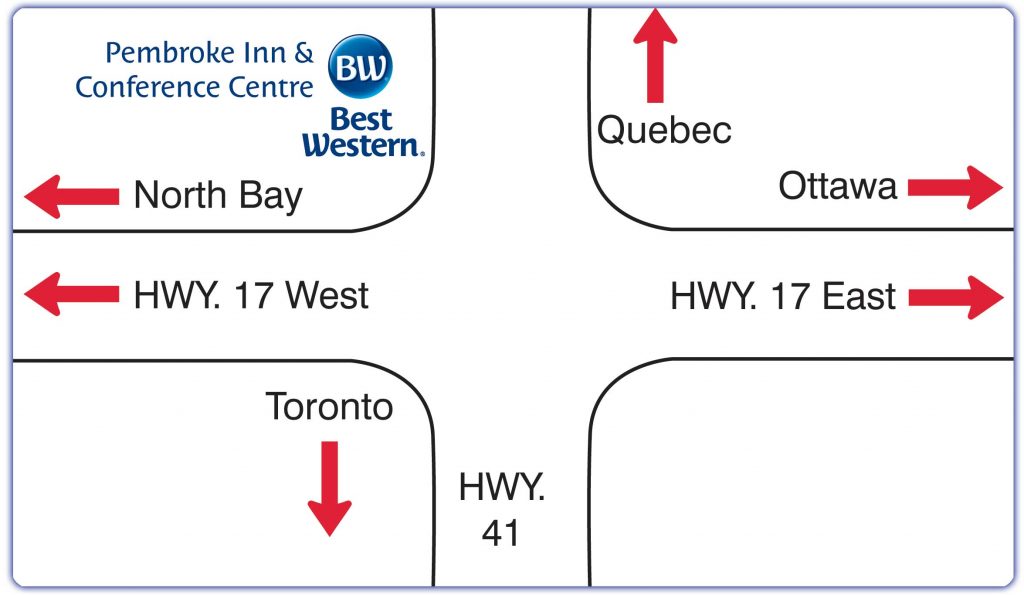 We are ideally located at the intersection of the Trans Canada Highway (17) and Highway 41 in Pembroke.
Reputation
We have been working with tour operators since 1989. Over the years, our staff have become well-acquainted with bus tour operators and arriving travelers. Over time, we have developed the ability of accommodating to unforeseen circumstances, fast check-in/out, advice on touring The Valley along with a friendly guest services team. It is our goal to ensure your stay with us is nothing short of outstanding.
All Indoor Hotel
While staying with us you'll have access to all amenities we have to offer including the indoor salt water swimming pool with hot tub, Westwinds Family Restaurant, 6,000 square foot fitness centre and your choice of 88 rooms with 12 different suite styles.
Once you have arrived at Best Western Pembroke Inn, your hotel suite is your home away from home. There really is nothing else you'll need outside the hotel unless you want to do some sight seeing in and around the Pretty Little City of Pembroke.
Site Seeing Extraordinaire
You may know the area as Ontario's playground with over 6 million acres of attractions travelers from around the world have come to love. Touring explorers visit this area all year around, especially in fall where the colours of nature are truly picturesque.
When your destination is The Ottawa Valley, Best Western Pembroke Inn is your home away from home.
Motor Coach Friendly!
We are motor coach experts! Your group will love our hotel, and the extra touches we offer our group travel:
Plenty of room for motor coach parking
Special consideration for tour escorts and bus drivers
Quick and efficient luggage handling is provided for a minimal fee
Group meals can be arranged in our onsite restaurant "Westwinds"
Large groups can enjoy our spacious lobby, Westwinds lounge  and outdoor gazebo surrounded by a lovely garden.  We handle many motor coach tour groups each year and also specialize in social clubs, athletic teams, family reunions and corporate events.