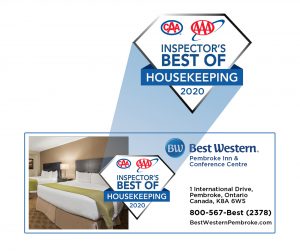 It was a little dull and raining outside today, despite the weather forecast predicting it would be warm and sunny. It's not the first and it won't be the last time our weather forecasters don't get it right. Show on…you bet! "With or without the sunshine this day is going to be incredibly rewarding" a voice inside quietly whispers.
The voice inside was explaining there's going to be a pleasant surprise on this day but it was not evident until our assistant general manager received a message from our head office:
Good afternoon,

I would like to take this moment and congratulate your staff and you on receiving the 2020 AAA/CAA Best of Housekeeping recognition. What a great accomplishment and it seems even more perfect and appreciated right now. Great job!.

Please take the time to celebrate with your staff and give yourself all a clap on the back.  Job well done J

We would like to take a moment to congratulate our housekeeping team on a job well done.
This is an award that our housekeeping team strives to obtain every year.
You Are the 'Best Of the Best'
In addition to passing AAA's rigorous on-site inspection, you got top marks for cleanliness and condition, earning you the distinguished AAA or CAA/AAA Inspector's Best Of Housekeeping designation.
Congratulations to our housekeepers for achieving this elite award, it puts our property in the top 25% of 27,000 AAA DESIGNATED hotels.